Memorial
Janelle Adrienna Isaacs Scholarship Fund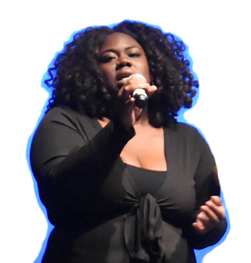 In memory of Janelle Adrieanna Isaacs, and to honor her life and music, her family has established an annual scholarship in her name to carry on her legacy in caring for children – especially those with special needs – her love of the arts, and particularly her love of The Institute of Music for Children. This Fund will provide about $5,000 of scholarship support annually for Institute students.

Janelle spent 10 years serving children and their families through her profession as a speech-language therapist in the Union County School District, and as a Youth Leader and trusted Teacher at The Institute. Her impact, felt and seen by many, outnumbered her years with us on Earth.
The Janelle Adrianna Isaacs Scholarship Fund will ensure that no child is ever turned away due to financial hardship. Here's the impact this Scholarship Fund can have each year:
- Five scholarships for the six-week Summer Arts Institute or
- Five Afterschool scholarships for emerging young singers (two group classes for 24 weeks) or
- Six scholarships for private lessons for special needs students
While she rests from a job well done, we will take up the torch she left burning in our hearts, and light many others so that her memory continues to shine. Your gift will help Janelle's legacy live on in the hearts and creative spirits of countless young people.