OUR BLOG
Spotlight on Americorps Service Member - Nicole Stinson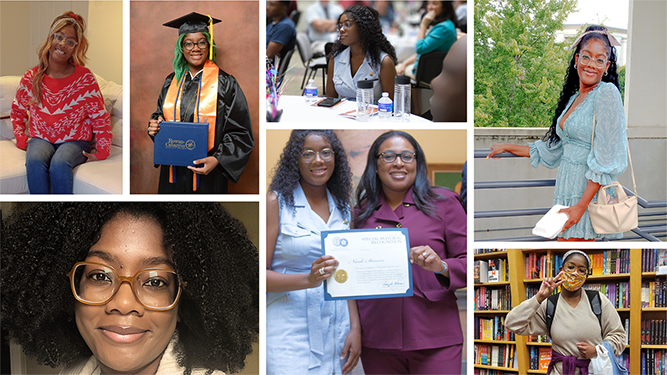 My name is Nicole Stinson, and I wanted to take a moment to introduce myself to the Institute and our families. My role for the next year at the IMC is in Development/Grants as an AmeriCorps Vista member (I'll explain what AmeriCorps is shortly). But you'll also find me around the campus for events and generally supporting where I can. I look forward to serving the Institute and its families! Read on for more about me and my journey to the Institute.
Born and raised in small-town North Carolina, I learned to live simply. As the youngest child of parents who worked constantly to make ends meet, while struggling mentally and emotionally, I also learned how to make myself smaller to survive. But school was always a place where I was nurtured and encouraged. Still, after K-12 I did not have anyone to help me cross the bridge to higher education. For first-generation college students, I can personally attest to mentorship being crucial in providing better visibility through the fog that poverty and disenfranchisement create. The struggles I experienced during and after K-12 (entering adulthood) inspired me to remove such barriers for other young people.
This was where the Institute appealed to me.The early intervention that the IMC provides is amazing in itself; building self-esteem, interpersonal skills, and work ethic in young people outside of the traditional classroom. I believe communities across the nation should have organizations like this as communal spaces for young people to be encouraged and supported through mentorship during such crucial times in their lives. Honestly, seeing the IMC's programming in action for the first time (during the 2022-23 Afterschool showcases in May) made me grieve a bit for little me. I thought about where I might have been at this point in my life; what socio-emotional blockages I could have worked through. Then again, it's no coincidence that I've been guided to the Institute where I can continue to uplift and serve others through the IMC's mission.
AmeriCorps was also instrumental in connecting me to this opportunity. AmeriCorps is the only federal agency for national service and volunteerism (Peace Corps is international), and they pair nonprofits with service members (like me) to advance education, economic opportunity, disaster response, environmental stewardship, healthy futures (addressing food insecurity, homelessness, the opioid crisis, etc.), and veterans at the local level. Over 200,000 individuals have served in AmeriCorps roles across the nation every year since it was founded in 1993.
My journey with AmeriCorps started shortly after I graduated from college with my bachelor's degree in 2019. An organization called RIT Gear Up contacted me through my alma mater, Rochester Institute of Technology (NY), about their program which guided local high school seniors through the college application process, entering trade school, entering the military or entering the workforce after graduation. For nearly a year, I was able to advise my seniors on all their options. Over the summer I held webinars for them (thanks to Covid-19), about topics like working while going to college and turning their hobbies into a side hustle. Nothing could compare to those families thanking me for steering their children in the direction of their dreams despite a global pandemic or being able to assure them that their children were accounted for financially after being accepted to their school of choice. By the time my contract ended, I knew in my heart that this was the caliber of work I wanted to continue to do.
Covid-19 created job insecurity for hundreds and thousands at the time, and AmeriCorps was no different even though it's on a federal level. Two years later, AmeriCorps would reach out to me again through a program called Saga Education which was based in Massachusetts but placed tutors in schools across the country (in-person and remotely).
I jumped at the chance to exit retail and go back to helping young people navigate their struggles. Saga Education is a nonprofit that provides high-intensity tutoring, providing freshman students with one-on-one support as well as mentorship in the classroom.The highlight of this remote position was the opportunityto visit my students inperson at their high school in the South Side of Chicago, and it was truly the highlight of my term!
In the coming year, I'm sure the Institute will provide me with many more opportunities to grow as a person, grow professionally, and feel connected to the local community. I'm looking forward to this new chapter of my life in New Jersey. See you around!
Connect with me on LinkedIn!