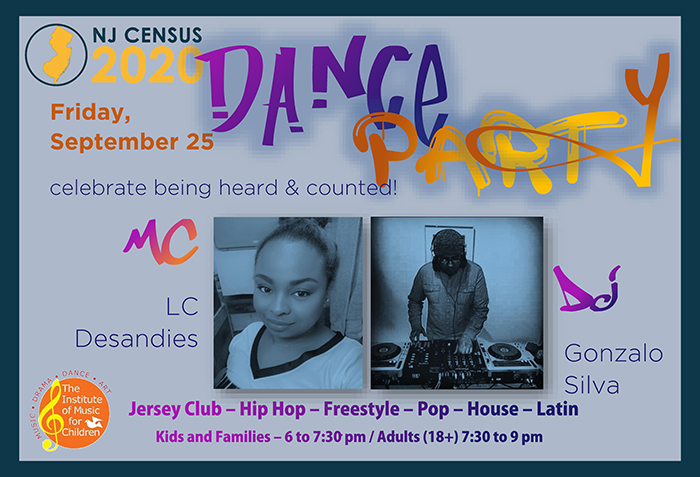 REGISTER FOR OUR DJ DANCE PARTY ON SEPTEMBER 25th!
Join the Institute and our own MC LC DeSandies and DJ Gonzalo Silva for GIVEAWAYS every half hour, trivia and your requests! Every person registered will be entered to win a $250 Grand Prize!
---
CENSUS 2020 - HELP US TO GET A COMPLETE COUNT!
The Census may seem unrelated to our work at the Institute, however its anything but!
More than 10% of the Institute's budget in 2020 came from the Federal Government, primarily from three agencies: the National Endowment for the Arts, the Departmment of Justice and the Department of Housing and Urban Development.
Our Census count in New Jersey, Union County and Elizabeth determines how much funding we will get at the Institute to fund the vital arts education we engage in every day. Additionally, things like school lunches, mental health resources, affordable housing vouchers and food banks also have signficant funding that is determined by the Census county.
That's why the Institute is partnering with E-Port Presbyterian Center and Jefferson Ministries to promote the Census among our families and communities.
Here what you can do right now:
Don't forget, September 30th is the final deadline to complete the Census questionairre.